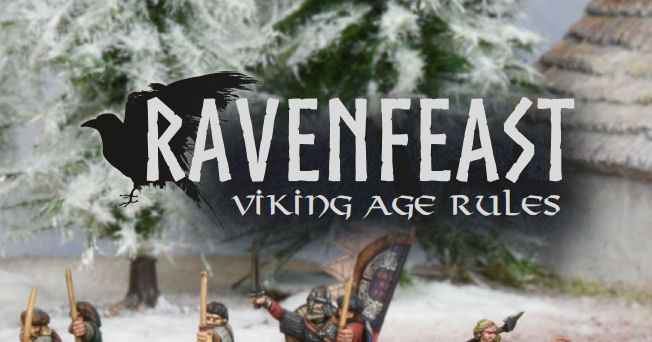 I downloaded the Ravenfeast free rules and gave them a whirl with my boy. We had a good time.
Ravenfeast is based on the
One Page Rules
system, and are very nicely produced. Ravenfeast also has a handful of scenarios and optional expansions available on their site, as well as tutorials on how to get started with modelling, painting, terrain building, and so on. It's really well put together.
We quickly selected our forces - my boy got 400 pts and went mostly for elite types, while I got 300 and concentrated on much cheaper basic farmers with shields and spears.
We ended up splitting our forces around a farm (the freshly tilled soil counting as difficult ground).
The system was fast and intuitive and enjoyable to play. The only issue we had was with shield walls...
A group of the local leiðangr forming a shield wall.
The implementation seems pretty realistic. You can only move forward (or backward) in a straight line, and you get some bonuses to armour saves.
The separate clashes - shield wall vs shield wall - develop, tying up the majority of models on the field.
The problem we had is that the bonuses you get in a shield wall meant that there was a whole bunch of dice rolling with very little impact. Most of the models ended up with a "roll 5 or less on a d6" armour save against hits. And since most of our models were in mutual shield walls, not much seemed to happen for a while.
To be fair, both my boy and I played quite cautiously and we had pretty basic forces so we may have missed options that could've broken the stalemate earlier. And, of course, it's probably pretty historically accurate.
After a long period of pushing, one of the shield wall melees finally broke up as one side had insufficient models to maintain the formation.
Once one of the shield walls broke up and the combat devolved into 1 on 1 or 2 on 1 fights, the game got a lot more dynamic.
In spite of the shield wall quibble, we both had a great time and we'll be revisiting the game. I expect adding some Saxons, some Normans, mythological options and/ or some more complex scenarios will make the game more dynamic.